TELKOM KUPANG PLANTS 1000 TREES

Program FLOBAMORA Kupang Clean & Green that was proclaimed by the government of Kupang and initiated by a daily morning newspaper, Timor Express around Kandatel Kupang Kupang Area CDC through the planting of 1000 mahogany trees. This tree planting takes place in the village Penfui Kupang City, attending the event was employees of Telkom Kupang, Penfui...
Click below to get the full article:

CHRISTMAS WITH THE TELKOM FAMILY

FLOBAMORA *** At a restaurant located in the Bay of Kupang, Friday 19 December 2008 was conducted Joint Family Christmas Celebration Large Group Telkom Kupang. Present in this occasion with the Mayor of Kupang, Drs. Daniel Adoe along with his wife, all employees of Telkom Kupang Group and its family, the P2Tel along with the family, the invitation of the...
Click below to get the full article:

INTERNET TRAINING FOR LANTAMAL VII

FLOBAMORA *** Some 30 members of LANTAMAL VII training in the Internet Room The Winning Telkom Flobamora. Training that has been followed also members LANTAMAL VII NTT at this time Wednesday 28 January 2009, followed by at Perwira and directly led by Mr. Didin WADANLANTAMAL VII. In his speech WADANLANTAMAL very grateful to the Telkom Kupang...
Click below to get the full article:

HOME PHONE LUCKY SWEEPSTAKES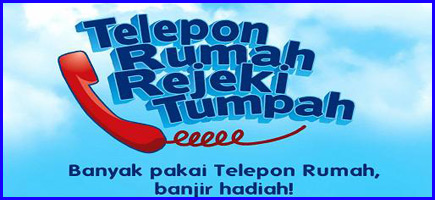 PT. Telekomunikasi Indonesia Tbk (Telkom) today (21 / 1) conduct sweepstakes promo Home Phone Lucky Sweepstakes in stage II. Home Phone Lucky Sweepstakes promotion program is directed to owners and users in the Home Phone Telkom Indonesia. Home Phone Lucky Sweepstakes implemented today is the 2nd of 12 stages during the promotion...
Click below to get the full article: